5 years ago
Finally, I managed to save enough money to buy the extremely expensive Spirulina. Supposedly one of the most powerful health "food" available out there. From what I read, they claim that...
Finally, I managed to save enough money to buy the extremely expensive Spirulina. Supposedly one of the most powerful health "food" available out there. From what I read, they claim that Spirulina is a complete food with nearly all the necessary minerals and vitamins for life. Well, I am sold. But one of the things holding me back is the price. It is super expensive. For just about 250g, this Spriulina costs nearly one hundred dollars. I am not kidding you. It is that expensive.  And the price is inflated. From what I read, Spirulina is a easy to grow and easy to harvest algae. However due to it's many potential health benefits, manufacturers have massively inflated the prices and dubbed it as a health supplement instead of a food. Thus, you will often find Spirulina in health stores. It is interesting to note that you can find Spirulina as food for fishes and the prices are actually much much cheaper. But they claim that the Spirulina meant for fish is not "clean". What to do? Since big manufacturers control the market, you have no choice but to pay the price they set. In Singapore, it is probably even worst than in other countries. Everything in Singapore is expensive. There is no escaping it.
Anyway, 250g of Spirulina doesn't amount to much. You are actually supposed to consume Spirulina as a food, so 250g is just enough for a few days at much. Due to cost issues, I am consuming Spirulina as a supplement. I will follow what the manufacturer have recommend.
One box, nearly a hundred bucks! The Red Sun is killing me!
Some interesting information.
Hmmm…..Spirulina is a species of blue-green algae found to exist on earth for billions of years. It survives best in extremely alkaline and pollution-free environment. It has a long history of being a safe and natural food for human consumption. Hahaha, they even admitted it. Yet they are charging extraordinary prices for it and making it unsuitable as a food source for human consumption! Japan Food Analysis Centre certified that Spirulina high value food, which contains without heavy metal and Coliform Bacteria. It is sfae and no side effect for long term consumption. Japan Health Food Association (JHFA), they recognized Spirulina as daily food. In 1981, Food and Agriculture Organization of United Nations (FAO) recognized Spirulina as a ideal food of the 2000's. Well, if they are going to charge so much for Spirulina, at the least they can write proper English, don't you agree?
Red Sun Japan Spirulina is cultivated under the strictest manufacturing conditions in a pollution free environment, using the latest Japanese technology. The manufacturing process is subjected to multi tests at every stage, to ensure it contains all the natural qualities. Red Sun Japan Spirulina is the pure and natural food that suitable for all ages. They recommends consumers to take 10-15 tablets daily and if necessary, increase the dosage. Yes, take with water. Spirulina can be consumed anytime with meals, before meals or between.
Hmmm….5 tablets of Spirulina contain 2.7mcg of Vitamin B12, which exceeds the recommended daily allowance for Vitamin B12 under the Singapore Food regulation. Have there been cases of Vitamin B12 poisoning? In my option, it should not be a problem, since I am sure that people have consumed Spirulina for ages without any side effects from Vitamin B12 "overdose". If you worry, just take slightly less.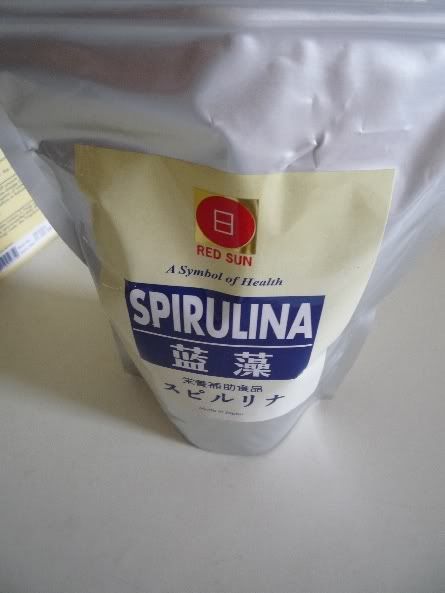 The aluminum foil containing all the tablets!
The tablets are green! I follow what is recommended - 10 tablets per day in the mornings. I might be increasing the amount to 15 by next month. And I will then need to find another cheaper source of Spirulina. Damn Red Sun!
Spirulina – the world's most concentrated & healthiest superfood! The scientific name of Spirulina is Arthrospira Platensis. It has a long history of being a safe and nutritious food for human consumption and over 30 years of intense safety testing. This microalgae which is blue-green in colour is able to absorb great amount of energy from the sun to produce highly valued bioavailable nutrients for their growth and reproduction. Spirulina is the first photosynthetic life form that evolved successfully for 3.6 billion years ago and still surviving today in our modern time. It contains all the necessary nutrients for life and also supports higher life forms by producing oxygen in our atmosphere.
If you want to read more about Spirulina, look above. Tons of information. But of course, take everything with a pinch of salt, the authors are attempting to sell their product which is Spirulina.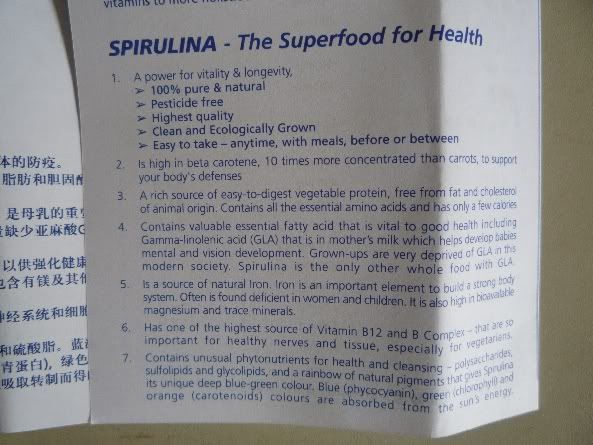 Hmmm….Spirulina – the superfood for Health.  A power for vitality & longevity. It is high in beta carotene, 10 times more concentrated than carrots to support your body's defenses. It is a rich source of easy-to-digest vegetable protein, free from fat and cholesterol of animal origin. Contains all the essential amino acids and has only a few calories. Contains valuable fatty acids that is vital to good health including Gamma-linolenic acid (GLA) that is in mother's milk which helps develop babies mental and vision development. Grown-ups are very deprived of GLA in this modern society. Spirulina is the only orther whole food with GLA. It is a source of natural iron. Iron is an important element to build a strong body system. Often found deficient in women and children. It is also high in bioavailable magnesium and trace minerals. Furthermore, it has one of the highest source of Vitamin B12 and B complex – that are so important for healthy nerves and tissue, especially for vegetarians.
Yes, Spirulina helps to strengthens the immune system, supports cardiovascular function & healthy cholesterol, improves gastrointestinal and digestive health, enhance natural body cleansing and detoxification as well as reduce major illness risk and increase antioxidant protection.
Some nutritional information for you to digest!
Even more nutritional information for you to digest.
Ahhhh…..tons of nutritional information for you to go through.
Okay, I have come to the end of this little review. Come back again in 3 months and I will tell you how the Spirulina is helping my health. See you next time!