5 years ago
Time for yet another snack review. This time it is the Tomei Roasted Chestnuts. Never heard of it? Well, same here. I just happened to chance upon it when I was browsing at my local supermarket the other day. As you guys might know by now, I have never been a fan of nuts. Although recent studies and research have shown that nuts are indeed healthy snacks, I never quite enjoyed nuts. Yes, a little peanuts here and there but that is about it. I seldom specifically go out to purchase nuts as food or even as a snack. But with increasing evidence that nuts have a multitude of health benefits, why not start trying them out?
From what I read, Chestnuts contains no cholesterol and very little fat. They also contain a good amount of Vitamin C as well as Iron and Potassium. Other than that, you have to do a little more hard reading. It seems to me that Chinese really enjoy consuming Chestnuts. You can see small stalls selling roasted chestnuts near the bus stops and interchanges. They do smell wonderful when they are roasted.
Tomei Premium Grade Roasted Chestnuts. Look – Premium Grade!
Another view. It comes in an aluminum foil, keeping everything fresh.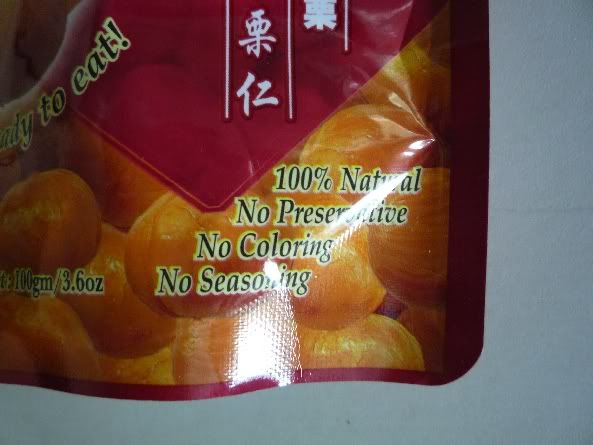 Wow, 100% natural, no preservative, no coloring and no seasoning. Which means that if the Chestnuts taste bad, you will know that the Chestnuts themselves are bad.
Peeled & ready to eat! Of course, such snacks should be made as convenient as possible. One of the main reasons people buy such products is due to its convenience. If not, they can just go down stairs to buy the freshly roasted stuff.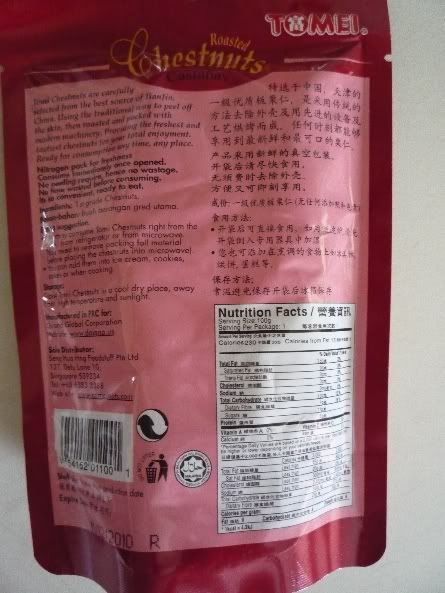 The back of the pack.
Tomei Chestnuts are carefully selected from the best source of TianJin, China. Using the traditional way to peel off the skin, then roasted and packed with modern machinery. Providing the freshest and tastiest chestnuts for your total enjoyment. Ready for consumption any time, any place. The Chestnuts are nitrogen pack for freshness and you should consume immediately once opened. No peeling required, hence there is no wastage. No time wasted before consuming. Its so convenient, ready to eat. Wuhahahah, I love the English. Anyway, the ingredients are just 1st grade chestnuts. Anyway, this is manufactured in China, obviously.
Sorry about the blurred photo. This is the nutrition facts for the Tomei Roasted Chestnuts.
In my opinion, this taste pretty decent. It could be that I hardly even eaten chestnuts in my life. Semi-sweet taste and surprisingly mild in flavour. And they have this sweet sticky feel to it which I feel is quite nice. But since I have nothing to compare it with…..